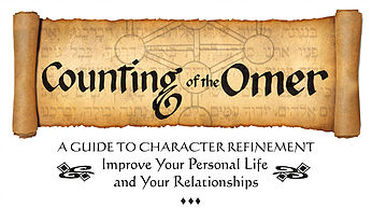 The Omer Count is finally here! I love these 7 weeks of transformation!!! These are some of the most important weeks of the year when it comes to creating major positive changes in our lives.
These 7 weeks of transformation gives us an opportunity to release all negative energy from our reality.

Kabbalah teaches us that during these 7 weeks (49 days) after Pesach (Passover), we must be aware and release all negative energy from every aspect of our lives. During the first night of the Seder your connection to the light of wisdom is free. But during the Omer is when you put in action to earn the light. During these 7 weeks of transformation we are not only releasing negative energy but we are cleansing our soul. The Omer begins the second night of Pesach and ends the night before Shavuot. You always begin the countdown after sunset. During these 7 weeks of spirituality we have the opportunity to break open klipot (negative shells) from within our core being and release the light that has been trapped by our own choices.

The Omer is pretty much 49 days of spiritual testing during which we can earn and keep the light we received on Pesach. Each of the 7 weeks corresponds to one of the 7 lower Sefirot that make up the Tree of Life: Chesed (Mercy), Gevurah (Judgment), Tiferet (Beauty), Netzach (Victory), Hod (Majesty), Yesod (Foundation), and Malchut (Kingdom).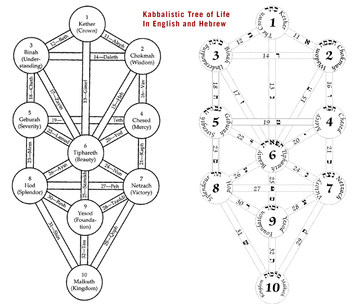 These 7 Sefirot are the channels of energy through which the universe is physically manifested. One of the ways that Kabbalists understand these Sefirot is through the biblical patriarchs and matriarchs who are "chariots" by which these particular cosmic energies are "drawn down" from their potential state in the metaphysical realm to an active form in our physical universe. Each Sefirot is also connected to a chakra point. Each level represents a point in your body that can be healed and transformed each week of the 7 weeks of transformation.

So let's tap into the consciousness of week one which started this past Saturday, April 23rd, 2016 at nightfall.

Week 1: Correcting The Sefira of Chesed
The energy of Chesed represents Mercy. Chesed is the most expansive of the Sefirot. It's basically pure positive energy. This energy is all about Mercy and kindness. The patriarch who draws down this energy is Abraham.
Our goal for this week, until Saturday evening, is to be like Abraham and inject Mercy and kindness wherever possible into our dealings with others. Now is the perfect time to be kind to yourself, every single person and situation you encounter this week. This is the week to give until it hurts!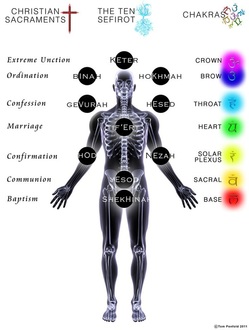 The chakra that is connect to Chesed is the throat chakra. It is located by your throat so it represents communication and truth.
If your throat chakra is blocked you will know because you will have issues opening up to people, being clear with communicating your feelings, can't connect to your thoughts, creativity and can't speak up. Physically it effects your thyroid, neck, ears, sinus, allergies, colds, etc.
The color to meditate by your throat chakra is blue. This will help balance your throat chakra. Also speaking up and being honest with someone this week will break any blocks you are experiencing. Also avoiding evil speech and gossiping is important. Avoid entertaining it as well. Instead concentrate on your creative side this week and be clear on your desires for yourself and towards others. The planets the throat chakra connects to is Mercury and Uranus. It is also connect to the energy of the air sign (Gemini, Libra and Aquarius).

This week is crucial you be kind, giving and speak your truth! Speak up for yourself this week.
During this important week of Chesed you can break all the negative energy around your life by applying compassion towards everyone and yourself. Go out of your way to volunteer at a local soup kitchen and animal shelter.
Make sure to love yourself more and be grateful for every single person in your life. Let go of fear and trust in Divine Source.

Consciousness For Week 1 by Karen Berg:

Day 1, April 23-24, 2016
The energy of today is Loving-Kindness of Loving-Kindness. Just for today and today only express kindness by smiling all day no matter what happens.

Day 2, April 24-25, 2016
The energy of today is Discipline in Loving-Kindness, so just for today replace every critical thought with a thought of appreciation.

Day 3, April 25-26, 2016
The energy of today is Harmony in Loving-Kindness. Just for today notice the beauty that is all around you.

Day 4, April 26-27, 2016
The energy of today is Endurance in Loving-Kindness. Just for today let's push ourselves to do something for somebody else that we only want to do for ourselves.

Day 5, April 27-28, 2016
The energy of today is Humility in Loving-Kindness. Just for today follow instead of lead. See what it is like to do what someone else thinks is right.

Day 6, April 28-29, 2016
The energy of today is Bonding in Loving-Kindness. Just for today do something with someone you would not usually work or socialize with.

Day 7, April 29-30, 2016
The energy of today is Leadership in Loving-Kindness. Just for today focus on the things you love to do and do it for another.

So there you have it my bunnies! A powerful and instrumental 7 weeks of transformation ahead of us! It's time to apply mercy, compassion and kindness to all this week! Share, share share! Give give give!!!

And remember:
GirlieVegans Do It Better!!!

Love and light,
Leda xxx

Photo Courtesy: Mayimkhayim.com, deliriumsrealm.com, Tom Penfold