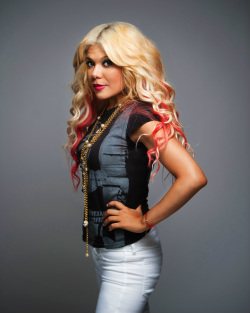 Leda Beluche is the creator and founder of GirlieVegan.

At a young age Leda always believed there was a higher force out
of this world. She utilized what she felt were magical powers to create a
magical life for herself. She quickly realized her connection to animals, nature, people and
the universe. She noticed she was attracting special people into her life and
she would later be able to connect them all.

Having met a spiritual psychic/healer that awakened her to
realize she was a psychic and a healer herself, Leda in her teens started
manifesting her desires by connecting with her own gifts and special energy she
would channel.

Once manifesting working and traveling the world with Marc Anthony and Jennifer Lopez, she realized anything was possible! She was able to
use her positive outlook on life and bring healing energy to them. She worked with different celebrities and was able to guide them with her gifts and handle situations with her instincts and intuition. Leda was brought to certain individuals to protect them and guide them in the right direction with her energy, "to help them with their career and make decisions." She realized that entertainers are light workers in their own way.

While living a life of glitz and glamour Leda's soul started having another huge awakening. She realized everything around her was just an illusion. She knew her light was needed elsewhere. Her soul was craving for more spirituality. After traveling the world she realized her mission to awaken others and to inspire positive change.

Feeling unfulfilled by the physical 1% world she decided to leave it all behind and embark on a spiritual journey.
Leda was influenced by strong powerful ascended masters like Jesus, Virgin Mary, Moses, Rabbi Akiva, Rabbi Simeon bar Yochai.
She went on to learn about the tree of life and quantum physics.
However; she realized that was just a stepping stone to what was about to be uncovered.
Leda was then guided to attend a UFO congress in Arizona. This is where she had a third deep spiritual awakening in life.

Leda quickly learned the importance of eating healthy and the spiritual connection between food, sound frequencies, energy, the universe and the ET world.

Leda has learned to use her own psychic, mediumship and healing abilities to help others awaken and heal their soul and life. She started her own practice in New York City allowing her to perform Energy Healing, Hypnotherapy, Past Life Regression as well as Spiritual Surgeries on clients to remove any physical, mental, emotional or spiritual problems they are dealing with. She also provides life coaching, vegan lifestyle makeovers and leads her clients into their own awakenings.

Leda is a Reiki Master, Reconnective Healing practitioner, and she was able to study under Dolores Cannon and received her certification for Quantum Healing Hypnosis Technique.
Leda is also a reverend who performs weddings, funerals, baptisms, and offers counseling to individuals and families.

Leda inspires and encourages individuals on how to eat and maintain a healthy lifestyle including using their own healing abilities to help themselves and others.

In addition to Leda's healing practice, she currently has her own radio show called The GirlieVegan Show, a radio show dedicated to the awareness of healing, spirituality and nutrition. She is also setting up a spiritual center, as well as working on creating a makeup and hair product line that is 100% vegan, green and biodegradable.

Leda Beluche currently resides in New York City with her beloved fur kids, Abbe and Ciccone.
---