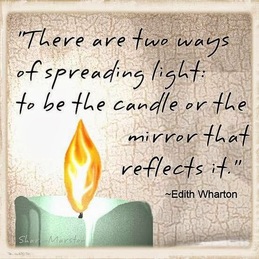 Here we are darlings! Week 7 in The Omer Count: Malchut.
Last 6 weeks of the 7 weeks of spirituality was all about
Chesed (Mercy), Gevurah (Judgment), Tiferet (Beauty), Netzach (Victory), Hod (Majesty), and Yesod (Foundation).
Now we have entered the 7 and final week of the 7 weeks of Spirituality and you will read how all the previous 6 weeks all add up to this week's energy of Malchut (Kingdom).
Karen Berg explained it best by stating that while all the other levels discussed during this Omer are concealed from the 5 senses, Malchut is actually the physical world that we live in. It is everything that is manifested. The purpose of Creation, the transformation of potential to actual, the exposure of the hidden, and materialization of the immaterial are all contained in this level of existence. Karen explains how at the Kabbalah Centre they explain that all of humanity descended from Adam, and in each generation we are correcting a different aspect of him. The souls of earlier generations were greater and on a higher spiritual level than those of our current generation. For that reason, those earlier generations were collectively responsible for correcting Adam's head, neck, heart, and so forth. The generation that we are living in is the generation appointed to correct the heel of Adam. The heel correlates with the Sefira of Malchut because it is the lowest point of the body, just as Malchut is the lowest of Ten Sefirot (Which is pictured here:
Sefirot
).
She goes on to explain that the news today is full of chaos: natural and unnatural turmoil, fights, wars and violations of human rights and dignity. All of this is part of the dirt of the heel, the garbage of the Earth, and we, fortunately or sometimes unfortunately, are the garbage sweepers. Our job is to make these difficult corrections because we are the souls that are incarnated here on Earth at this time, we are the ones who are responsible to do this work.
Every time we manage to take responsibility and correct something within ourselves, we are doing this work of the heel, impacting the whole of Creation.
Karen Berg suggests that this week, the final week of the Omer, as you face whatever it is that is before you, remember that our role as individuals is to take part of our being that needs healing and through our spiritual effort and transformation bring it into wholeness, returning to oneness with our true and Eternal Source.
To me this all means that this week we have true potential to see what we are being exposed to spirituality so we can correct and heal ourselves. The action we take in healing ourselves effects the rest of the planet as a whole.
The first 5 weeks of Omer count were connected to our 5 senses, how we feel, react, forgive etc and the 6 week was about bonding all those 5 weeks together and sharing them. Now this week it's the complete foundation of all 6 weeks coming in to surface to represent who we are and where we are.
This week is about Sovereignty. The state of being rather than an activity. Leadership is a passive expression of human dignity which has nothing of its own except that which it receives from the other 6 emotions.
At the same time, Malchut manifests and actualizes the character of the human spirit. It is the very fiber of what makes us human. Why we love the way we love. Malchut is a sense of belonging. Knowing that you matter and that you make a difference. That you have the ability to be a powerful leader in your own right. It gives you the independence and confidence and the feeling of certainty and authority.
When you are in a healthy state of Sovereignty and connected to the higher portion of Malchut you are always kind and loving. A powerful and effective leader needs to be warm and considerate. So make sure you are applying that towards yourself and mostly towards others.
This week's Malchut and lesson is connected to the our Root Chakra.
The root chakra is the first chakra and is located at the base of the spine, the pelvic floor. It is the root of your being and establishes the deepest connections with your physical body, your environment and the Earth. It's how you survive. No coincidence that it connects to Malchut, the heel of Adam.
The root chakra is connected to safety, instinct, sexual being, survival, grounding, family, boundaries, security and new opportunities/new beginnings.
If your root chakra is blocked, you will experience relationships issues, trust issues, feel insecure with work and money, and fear of being stuck in one place.
When your root chakra is balanced and opened, you will experience love from your relationships, feel grounded and secured in all aspects of your life. Experience manifestation and new experiences. You will trust even when you've been hurt in the past.
I know this was a lot to read but I wanted to make sure you all understood the power you have available this week to see what area in your life is in chaos and how you contributed to the situation and how you can take responsibility, transform and heal yourself from it. You will literally have a true awakening. This will have ripple effect on the rest of the planet without you realizing it. Someone else will be able to have an awakening and elevate their soul due to your one action. Realize this week that you DO matter. YOU ARE important.
Take this week to do something kind for humanity. Sign up and volunteer somewhere. Go out of your way to help someone else. You will feel so good and in return inspire someone else to do the same.
I can't express how eye opening this week will be for all of us. I hope you are able to see the lesson!
I wish you a week of transformation and LOVE!
I love you all!!!
Namaste!
And remember:
GirlieVegans Do It Better!!!
Love and light,
Leda xxx
Photo Courtesy: Unknown