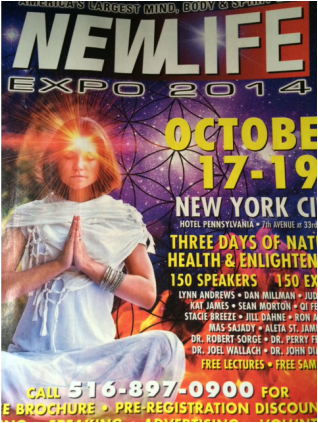 This past weekend from Friday, October 17 until Sunday, October 19th, The New Life Expo was held at the Hotel Pennsylvania in NYC. The New Life Expo is the largest holistic health, alternative medicine, anti-aging, metaphysical and spiritual expo for over 24 years founded by Mark Becker.
I had the pleasure to attend this past weekend and what a treat it was! There were over 200 exhibitors and speakers from all over the world. I love that you have a little bit of everything mixed in together from Vegan food to essential oils, to healing crystals to psychic readings! It's just a magical place for all the spiritual geeksters like myself to attend and feel right at home! And of course for anyone who is new or simply curious about spirituality or alternative medicine, this is the place for you to meet tons of people! Plus word on the street is it's also a place where singles can mingle! :)

---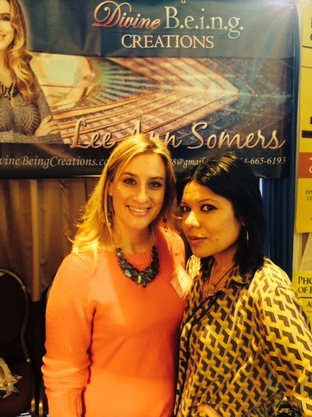 The first class that grabbed my attention was Lee Ann Somers' class. I decided to go and sit in and connect with her angelic spirit. It was my first time sitting in her lecture and meeting her. We immediately connected! I loved her class! She began by describing her awakening towards healing and the angelic realm. Prior to her awakening she had no real interest in spirituality or any communication with God, but one day she sat in a class on How To Meet Your Guardian Archangel. After participating in the guided meditation she was able to meet her guardian Archangel Gabriel. This was the beginning of her amazing spiritual journey. Lee Ann shared a few more angelic interactions during her sessions with clients and then lead us into a beautiful and special meditation and connected us to our guardian Archangel. My Archangel of course came thru and gave me a message I actually needed to hear on something I was being stubborn about the day before. So for me it was perfect! Although I am a huge Archangel person and I am constantly working with them to heal my clients and I speak to them on a daily basis, there are some occasions where I can be a bit stubborn when it comes to my personal love life. (I am a girlie girl after all!)
Being in Lee Ann's class truly made me sit still and deal with it!
Our Archangels are here to assist us on our daily journey, and its great to allow and trust them to help us manifest things in life we desire! This is why they chose to help us from the other side. They have the ability and knowledge to help guide us in the right direction. They can even help you with a term paper at school, meeting the person of your dreams or even with a promotion at work!
The next day I saw Lee Ann Somers by her booth and she actually gave me a full reading!
She was right on with everything she said and even worked with Archangel Hilarion to handle a few things :)
Thanks Lee Ann!!!!!
Lee Ann Somers offers healing sessions, classes, and meditation CDs.
Feel free to check her out at her website: www.LeeAnnSomers.com
---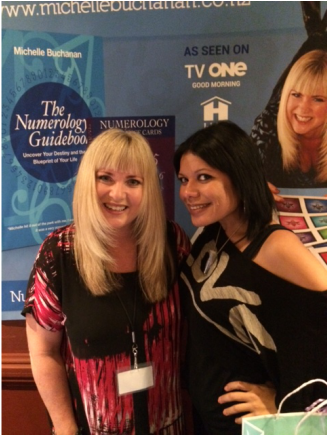 The next class I attended was the amazing numerologist Michelle Buchanan. Her class was completely packed and she dedicated the class to teaching all of us how to find our current name number and our life path number.
Michelle explained that Numerology is the ancient science of numbers, which each number contributing a unique vibration to the story of your life. It originally dates back thousands of years to the ancient civilizations of Atlantis, Babylon, China, Egypt, India, and Greece. It is said to have been created by Pythagoras, the Greek mystic and mathematician, more than 2,500 years ago and now currently used around the world today include the Kabbalistic, Chinese, and Tamil/Indian system. Of course you can read more of this in-depth in Michelle's book The Numerology Guidebook. I loved how everyone was eager to learn their life path numbers and although some of us already knew our numbers it was great to hear Michelle's meaning of each number. With Numerology you are able to discover what your life purpose actually is and how to understand yourself and others.
I also stopped by her booth to say hello and she gave me a reading! YAY!
I have to say she has a very special and unique gift how she is able to channel all her readings. Extremely gifted and I completely support her!
She gifted me her book as well which I already started reading and it's amazing how she is able to educate the reader on how to find their Destiny, Soul, Personality, Life Path, Karmic Lesson, Maturity, Birth Day and even Current name numbers and the actual meanings behind each one! She's amazing! You can even figure out your friends, family members or loved ones numbers and meaning!!! Its really great!
Michelle Buchanan will be in NYC until Monday, October 27th for in person readings!
You can also attend her Numerology Workshop in NYC on Sunday, October 26th from 1pm-5pm at Quest Bookshop 240 E. 53rd Street. Cost: $60.00. It's a class you don't want to miss!
Hay House author Michelle Buchanan's book is titled The Numerology Guidebook Uncover Your Destiny and the BluePrint of Your Life. You can find it at your local Barnes and Noble or anywhere online.
www.MichelleBuchanan.co.nz
---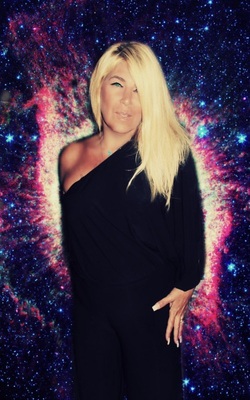 One of my favorite lectures is always with the fabulous Jill Dahne! Her class is always packed and quite fun!
"Jill Dahne is the #1 Love Psychic in the World" as quoted in the book 100 Top Psychics. She has been on radio and television since the age of 6 years old. Her life was chronicled on Lifetime Television as the #1 Love Psychic for all of the marriages and relationships she has predicted throughout her life, over 1,000 to date. She has also been on Court TV for unsolved murder cases and missing children.
Her lectures at the New Life Expo are always the most popular one! It's completely packed and she even shares world and stock predictions! This year she strongly suggested that everyone invest in Stem Cells. In the past she had predicted her client would get involved in a new venture that would be extraordinary for people suffering with addictions. It manifested and there is a new implant that will end any type of alcohol or drug addictions. It's FDA approved and will hit the market in late November.
Jill is standing behind it and strongly suggested everyone invests immediately once the stock name is out. Stay posted on her site for more details!
She gave quite a few love predictions to the members in the audience. When it comes to love, Jill always has great advice to give to all her clients and people that attend her classes. She suggested that if you are single and looking to date, always date 3 people at the same time. She is a big believer in online dating. She explains its not the people that have the problem when you meet them, its all about the timing. She explained to not wear rings as it prevents you from meeting someone new. She said when its the right person you will have this special glow to you! Emotional connection is the most important factor to have in a marriage or a relationship.
Jill also explained to never go by the outside of a person go by the inside because the personality of the relationship and the personality of the person forms the relationship. You can be attracted to the person but it's what's inside that forms the relationship.
Jill Dahne is currently working on her book When One Door Closes, Another Door Opens, Conversations with Jill Dahne.
You can schedule a private session with Jill Dahne via her website:
www.JillDahne.com
---
One other class that stood out for me was Psychic Medium Joan Carra. She was really great and had such a hysterical way to connect with the class. Joan actually had my friend Lina's grandmother come thru and gave her a special reading in class that left my friend crying with happiness to know that her grandmother is by her side everyday. Joan was able to describe how my friend's grandmother passed away and her personality. She gave her a special message. Joan leads group Seance in NYC and you can learn more about her and her work at
www.PsychicJoanCarra.com
The New Life Expo should be in NYC back in March as well as in Florida and Canada. Feel free to check out their website at
www.NewLifeExpo.com
Life is all about sharing your love, light, and wisdom with the world. That's why I am a firm believer in supporting other light workers that are on this journey like myself to share our light in order to heal and assist others in finding their light and owning their power!
Love to you all!
And remember:
GirlieVegans Do It Better!!!
Love and light,
Leda xxx
Photo Courtesy: Jill Dahne