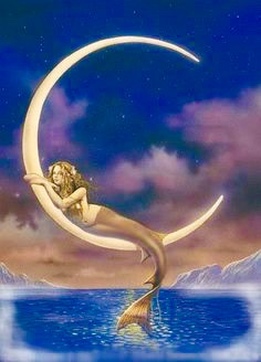 Tuesday, January 20th, 2015 at 8:14am EST enters the New Moon SuperMoon in Aquarius at 0 degrees my darlings!
Now that we have entered with the Sun in Aquarius we will continue to have Venus in Aquarius until January 27th, Mars in Pisces until February 19th, Mercury in Aquarius until March 12th. However, from January 21st - February 11th we will be in Mercury Retrograde. I know, run for the hills!!! I will explain more in detail about Mercury Retrograde for those of you that are not familiar with this term. Saturn is still transiting in Sagittarius until June 14, 2015 and will return from September 17, 2015 until December 20, 2017. Jupiter is still in Leo until August 11, 2015 and Uranus has been in Aries since March 11, 2011.
A lot has happened since the Full Moon on January 4th. Oh boy! I am sure some of you felt like 2015 started on a rocky note but that's only because life is going to get a whole lot sweeter for all of us!!!
Most of you went through some eye opening experiences to say the least! A lot of truth being revealed that perhaps might have been painful for some. And that's okay, because new beginnings start NOW!
The rest of you probably started the year feeling great and manifesting quite a few things and that's fabulous, because it's only going to continue. No matter how 2015 started, it's only going to get BETTER! This is a year of manifestation and money! So let's get this party started!!!
A New Moon is when the Moon and Sun are aligned in the same zodiac sign. A New Moon means something new is born. It's the time to plant new seeds for the future. Your thoughts are powerful during a New Moon so it's important to think positive and visualize that which you want to manifest in the next 6 months.
This New Moon comes super charged because it's a SuperMoon as well. A SuperMoon is when the moon is at its closest point to Earth. The Earth, Moon and Sun are all in a line with the Moon in its nearest approach to Earth!
It is also said that a SuperMoon can create a bit of chaos in the world from wildfires, storms, major floods to even earthquakes and volcanos going haywire. This is the first of six SuperMoons this year.
SuperMoons are also huge for amplifying the intensity of the moon it falls under. In this case since the SuperMoon falls on a New Moon in Aquarius, get ready to write those intentions and think BIG, because believe me, it will manifest for you!!!
Mercury Retrograde begins Wednesday, January 21, 2015 - Wednesday, February 11, 2015.
This happens about 3-4 times a year. Planet Mercury rules communication. So when planet Mercury slows down and goes backwards our lives goes into a big clusterfunk.
When Mercury goes retrograde we experience nothing but miscommunication. All communication with friends, loved ones and coworkers goes haywire. You will notice where you start having communication problems or arguments with people for no reason. And that includes all technology as well. Your iPhone or galaxy will freeze, missing texts, or emails not working. So it's truly important not to purchase any new electronics during this time, as you will most likely have issues with it within 6 months. It's also highly recommended not to fly to a new destination. If you have to travel and it's to a place you have been to before, than that's okay. Mercury Retrograde is all about going back and tying up loose ends. So if there is a project you started a while back but never finished it, you will have Mercury now supporting you to finish. If there is a relationship or friendship that ended intensely and you would like to heal the situation and both go your separate ways, this is the perfect time to do so. It is always advised not to sign any paper work or contracts or start new partnerships during this time because once Mercury goes direct there will be some serious revising to be done.
Keep in mind Mercury Retrograde effects begins a few weeks before and after. So look back in the past week where there might have been misunderstandings or electronic issues. And even after it goes direct on Feb.11th be aware that you will not be out of the zone entirely until 2 weeks later.
This New Moon SuperMoon in Aquarius occurs at 0 degrees which is amazing because any time a New Moon enters at 0 degrees it's basically like hitting a reset button. You now have a clear chance to reset and restart your life from scratch! You now have the power to start with a clean slate. Take this time to sit with yourself in silence and rethink and reconnect to your core values. Connect with who you truly are as an individual and let this inner self shine like a light in a dark room. Start your life over. This is the perfect time to let go of anything or anyone who has been keeping you stuck. Perfect time to end a bad habit, bad friend or bad boyfriend/girlfriend. Start fresh! Start a new lifestyle, a new career, a new way of thinking! The time is NOW!
Aquarians are all about friendships, sister/brotherhood, they are risk takers, love group activities, group projects, social settings, trying new things, all about being a humanitarian and learning new ways to improve themselves emotionally, spiritually, physically and mentally. So what does this mean for you? Since this New Moon is all about the energy of Aquarius, all these different areas of your life will begin to arise within your subconscious and cause you to want to tap into all new things and create a conscious change.
This is the time in which you should dig deep within your soul and be honest with yourself. Let yourself go and begin to think outside the box. You will probably feel like trying new things, explore different ways of thinking and begin to solve your problems in a different manner. This is all because you are tapped into the energy of Aquarius!
You will probably start feeling the urge to go out more with your friends and loved ones and be the social queen or king.
Aquarians are not about the drama or emotional outbursts, so ladies make sure to keep your inner Bride of Chucky on lock down, and men keep your inner Norman Bates completely locked away and throw that key away!
This is the perfect time to zip the lip in all areas of your life and listen to your friends, coworkers and loved ones. Listen as in go deep into understanding who they are as a person. This is not about listening and doing what they want you to do, as you will be in total rebellious mode but instead see this as an opportunity to truly get to know who you have around you. Sometimes life passes you by so quickly, you end up creating and attracting the wrong people around you who may not have your best interest at heart and that's always painful to discover when it's a bit too late. So instead pay attention and listen to people. Find a new way to understand how humans operate on a soul level so you can create change in your life. This is the time to go out of your way to give a helping hand to someone. Is there a charity organization you have been wanting to be a part of? Or perhaps you can take time from being on social media and go help out at a soup kitchen or at an animal shelter. Lots of people and animals need your love right now.
This is the perfect time to disconnect yourself from being hypnotized to doing the same routine over and over again. Take time to call someone instead of texting, write and mail a real letter instead of an email, attend a social gathering and make new friends and possibly score a date instead of Tinder and Grinder. It's time to start something NEW.
Let the Rebel Heart in you rise and be adventurous! Try that new vegan restaurant you wanted to try. Get out there and get to know your community. During this New Moon it is important for you to truly connect on a human level with people, to show people that love does still exist instead of technology overriding your everyday life.
Some of you will find that this month you will begin to want different things. Single peeps wanting a relationship will start to like individuals that aren't normally their type at all. So go for it! Let this new urge for wanting new things take over your mind and body and allow it to create change in your life. Push yourself harder to get yourself out of your comfort zone. The only way you will shift the energy around you and receive something you've wanted.
This is the time to remain positive, hopeful, optimistic and plan your future in a BIG way!
The Asteroid Circe is also transiting and she is also known as a powerful and enchanting witch. The Asteroid Circe which was discovered in 1855 is named after this wonderful goddess. She is known as Asteroid number 34.
This beautiful witch and goddess was known for bewitching men. She was all about the spells and potions.
So in her honor I have enclosed a few spells for you to do for this New Moon SuperMoon in Aquarius.
If you are looking to bring in something/someone into your life:
Begin by spending a few minutes everyday visualizing that which you want to bring in to your life. Daydream about it. Feel like it is already happening. Feel the emotions. See yourself with this person having a great time and being happy. See yourself having that item that you want and feeling the joy as if you already have it. Doing this everyday for a few minutes will let your subconscious know that this is what brings you happiness, therefore actually manifesting it into your life.
If you are looking to let go of something/someone in your life:
Write on paper what you want to let go and why. Make sure to write down everything you are letting go. Feel the emotions in your writing, feel all that you no longer desire leaving your body into the piece of paper you are writing on. Feel your body already feeling lighter because it's leaving your system. Then set the piece of paper on FIRE! Watch it while it burns. Feel it all leaving along with the piece of paper, fire and smoke.
Speak out loud everything you no longer want in your life and say it in front of an opened window. Feel it all leave out the window. It is now gone.
In closing remember that this New Moon SuperMoon in Aquarius is all about making room for innovation. So make time and room in your home to invite your energy healer, astrologer, psychic, spiritual friends of yours over for dinner who may just have a message for you that's not understandable to you right away but will turn out to be absolutely right on the money and correct.
Aquarians: You are always one step ahead of others, but make sure to actually sit still during this New Moon because you will be able to see what needs improvement in your life and what is actually working for you.
Leos: You may feel embarrassed and humiliated about something personal that was brought to light in front of others. But you won't feel embarrassed for long as this attention you are now receiving will bring in a larger group of friends that are more empathetic towards you.
Aries, Taurus, Gemini, Cancer, Virgo, Libra, Scorpio, Sagittarius, Capricorn and Pisces: If you are feeling like you are running on empty or running out of ideas, it's time to start looking at your priorities and making a list of what works and what should change.
I hope I was able to get across the importance of this New Moon SuperMoon in Aquarius. It's important for you to set your intentions today and think BIG because this is a completely new beginning for you. You can now click that reset button and start fresh! Start something you have been wanting to do like a workout routine. Make time for yourself!
I just started a Bikram Yoga 30 Day Challenge! Break yourself! Go ahead and cook that vegan recipe you have been wanting to try. If you need help don't be afraid to ask your friends. Also take time to go out of your way to help someone in need. Go that extra mile this moon cycle!
I will be posting the Vision Board blog on Wednesday so come back and check in for some wonderful tips on how to create your best Vision Board in 2015!
I decided to take one day of the month to pick a lucky winner from all the emails I receive asking for advice and post on the blog so if someone is going thru a similar situation they can connect to it. I will be giving a free card reading to this individual! So keep the emailings coming to info@girlievegan.com.
I also started writing some fun and informative blogs for you all with some exciting topics! Stay tuned!
Wishing you all a great New Moon SuperMoon in Aquarius and a great rest of the month!
Life is like a box of vegan chocolate, you never know whatcha gonna get!!! So stay present and set those intentions!!!
And remember:
GirlieVegans Do It Better!!!
Love and light,
Leda xxx
Photo Courtesy: Unknown