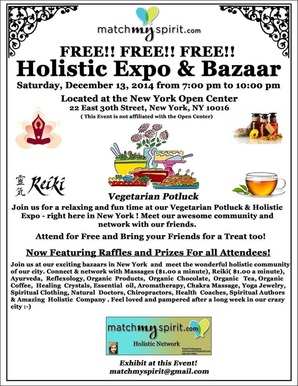 Being the Spiritual Rebel that I am, this past weekend I attended the Holiday Holistic Expo & Bazaar at the New York Open Center.
Saturday, December 13th from 7:00pm to 10:00pm I was in a whirlwind of pure energy! From psychics, mediums, QiGong, healing teas, vegan food, energy healers, crystals, organic products, you name it and I felt it!
My sis Louise from France was overwhelmed by all the energy so she lost a bit of color and nearly fainted! Yikes!!!
Or maybe it was all the energy from my "disagreement" with a lovely lady over vegan cat food! I can't! Too funny!
Either way we had a blast and I even bumped into a few old friends I hadn't seen in awhile like Shayne Spencer who is an amazing web designer and Dafna who is a walking angel, who I met through my darling sister Daisy.

---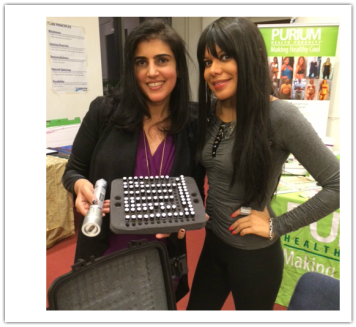 I met this wonderful lady named Ritu who has this amazing healing product called Halo Systems. She explained that Halo Systems are the new paradigm in Photonics therapy treatment protocols. These are special devices that doctors use but now are available to the public. She explained that no other light therapy system remotely compares to the speed of performance and photon/botanical approach they have developed.
I watched her prepare a demonstration she was going to do on me, and it was so interesting! You choose from all these different liquid vials that cater to whatever pain (mental or emotional) or vital infection you have and you place the liquid vial inside the Halo device and you light it under your tongue. Sounds weird, but it's so cool! Because I am an energy healer, I'm sensitive to any energy out there, so I definitely felt something. We did a quick demo, but now I am interested in trying it for a full session so I can tell you all about it! I plan to interview Ritu in the future so she can explain a bit more in detail how it all works. They have a long list of issues they work on and heal: Deep Muscle, Candida, Lyme Disease, Bipolar, Anxiety, HIV, Immune Boost, Weight Loss, Diabetes, Anger, Lupus, Anti-aging, Spider Veins and even Follicle Rejuvenation to name a few. I tried the brain cleanse & manifesting one.
I can't wait to see if I truly manifest my wish!
For a Halo session feel free to contact Ritu at:
www.quantumenergyhealingnyc.com
---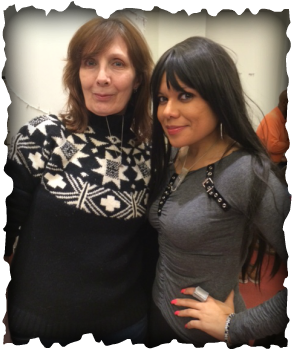 The next person I met was Anthea Appel who specializes in Animal Naturopathy and Homeopathy.
This conversation was a bit overwhelming for me and especially for Louise! I stopped by her booth because I was curious what she thought about cats being vegan but I had clearly missed her sign that read cats and dogs should be eating raw meat! Yikes! I asked the wrong person! However, being the Spiritual Rebel energy healer that I am, I had to push the envelope a bit. She gave me a list of reasons why we should be feeding our dogs and cats a raw meaty bone diet. Apparently it helps with weight control, less stinky stools and your pet becomes more affectionate.
Luckily for me, my fur kids are already way too friendly plus their stool doesn't stink! Yay! They are healer kitties, of course :)
Anthea went on to tell me the dangers of dry food and how a cat's natural diet consist of rodents, rabbits (I don't think so!), insects and birds. My question is how about all the dogs that are vegan and lived to be 18-20yrs old. But she insisted they were lying to me. Although I agree, any cat food that is out there that is processed, isn't the best for any pet, but I do my best to buy only organic foods for Abbe and Ciccone. However, she also needs to remember that if meat for humans are toxic and full of horrible chemicals it will have the same horrifying effects on our beloved fur children. This is why I always surround my fur kids food with white light to remove any toxins from their food! The question still remains unsolved for me, is vegan cat food healthy at the end of the day? Since I am 100% vegan this is an issue I always struggle with when buying food for my kiddies. I am not a big fan of dry food, so I am still on my quest for finding someone who has a vegan elderly cat. This, of course, is a whole blog in itself and I can't wait to interview a few vets, Anthea and vegan cat and dog parents! Stay tuned for that blog and Youtube interview because I'm sure it will be over the top!
If you want to ask Anthea questions feel free to at:
www.catsndogsnaturally.com
---
Keisha's tag line "Holistic products with the soul in mind!" caught my attention, along with her amazing personality!
I quickly tried her Lovely Lavendar Sugar Scrub and the Lovely Lavender Body Lotion, and I have to say it felt and smelled sooo yummy! I loved that most of her products are vegan! She has all sorts of fun skin care products like scrubs, soaps, lotions and even has a jewelry line that has all these cool stones and special energy.
Keisha explained that her skin care products are made with natural and organic ingredients. She uses raw unrefined plant butters, oils, herbal infusions and extracts. She said they assist in moisturizing the skin and also have health benefits.
Everything Keisha creates is handmade and crafted with love. Sounds good to me!
Feel free to order any holiday gifts from her and make sure to ask which products are vegan!
www.keishagemz.com
---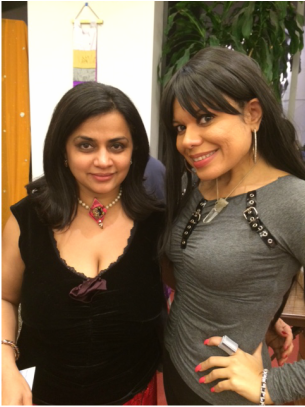 Last but not least I met Naini Nakagawa who is the founder of the holistic network Matchmyspirit.com!
She is the main reason we were all at the holistic expo. She likes to put together these wonderful expos all throughout Manhattan, Queens, Long Island & New Jersey on a monthly basis. She has a beautiful young son who attends the expos and gives such a warm presence to the event. Naini is so sweet and kind, you can see her making herself available to speak to everyone who approaches her. She gifted me the book Autobiography of a Yogi by Paramahansa Yogananda! She said it was the only book Steve Jobs had downloaded on his Ipad 2 when he passed away.
Her site is also a dating website for spiritual geeksters like myself! How cool is that?! I will have to interview her soon and get all the scoop!
If you are interested in joining Naini's holistic network make sure to visit her site:
www.matchmyspirit.com
---
There you have it darlings! My wonderful experience at the Holiday Expo & Bazaar!
Feel free to attend the next expo:
2015 Holistic Expo
Saturday, January 24, 2015 from 7:00pm to 10:00pm
Located at the New York Open Center
22 East 30th Street
The event is free so make sure to invite all your friends!
You will be able to meet energy healers, natural doctors, buy organic products and meet some great people!

Wishing you all a wonderful Holiday Season!

And remember:
GirlieVegans Do It Better!!!

Love and light,
Leda xxx