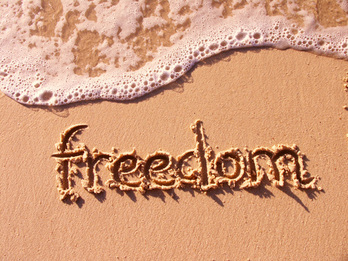 As always I love sharing with you what I learn from Zohar class at the Kabbalah Centre in NYC.
Being that it was the first class of the New Year 2016, I was so excited to hear the consciousness of the week from my teacher Eitan Yardeni.

This week it's all about going from bondage to freedom!
For the next 6 weeks this is a time for TRANSFORMATION.
There is a cosmic window opened of opportunities available to you during the next 6 weeks.

Here are some ways to awakened to realizing you have opportunities available to you.
From bondage to freedom:

1. When chaos reaches a certain level you are forced to change.
Example: Doctor tells you the only way to help your condition is to change your diet.
At this point you have to create change in order to survive. You are being forced.
a) When you are in a situation where you have to no choice but to let go. Letting go is your only option.
b) When we are inspired we create change. That inspiration forces us to change.

2. Free will
When you actually make the decision to go to your darkness, you can truly have a chance to choose light over darkness.

3. Before we get to redemption, you must go through negativity.
Before you reach the next level, you will feel lost and feel dark. But that's a chance for free will and you are about to go through change.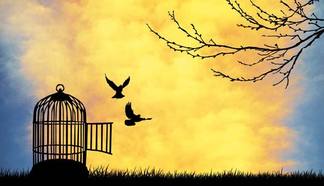 When you are going through your spiritual process after a while you will feel you don't feel it, it's not working.
But you are feeling it! Before going to the next level you have to go through darkness in order to experience free will.
You must have certainty and trust! You must have a knowing!

During this period of 7 weeks you can't trust your feelings! **Feelings are deceiving**

What does knowing mean? Because someone told you?
Trust even if you don't feel it. When you have total certainty you have total freedom of negativity.

There are two ways we feel during 24hrs:
Unification during the day: when you feel the rewards of your positive actions
Unification of the night: you don't feel connected.

But you must trust and have certainty! You have to transform yourself from bondage to freedom.
Here's how: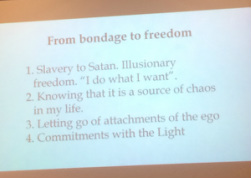 1. Slavery to Satan. Illusionary freedom. " I do what I want."
What does this mean? Being a slave to addiction, to the ego, to negativity.

2. Knowing that it is a source of chaos in my life.
This means being aware you are the slave.

3. Letting go of attachments of the ego.
Redeem yourself from the negativity. This means you are no longer attached to being the victim or to addictions.

4. Commitments with the Light.
Real freedom comes when you are servant of the light. Connecting to knowing you have responsibility in this world. What is your responsibility with the light? Your daily commitment with the light.

Freedom comes with commitment. See the commitment with love and good intentions not because you feel you have to do it.
This applies to us in all sorts of ways to our daily life. For example, how can you have the body you desire if you don't add commitment to eating healthy and exercising? How can you win a basketball game if you don't commit to practicing everyday? If you commit to doing a daily action towards something, you will see yourself achieving your goal and receiving so much light!

The light is your boss.
Embracing my commitment connects me to my freedom!

It's not about sharing and donating when you want or feel happy. It's part of your commitment with the light.
You are here for a reason, to complete a mission!

Commitment is attachment. Choose the right attachment!

Think of one thing you will commit yourself too in 2016. Write it down and apply commitment to it everyday :)

Wishing everyone a fabulous 6 weeks of true transformation! Break yourself free!

Namaste Witches!!!

And remember:
GirlieVegans Do It Better!!!

Love and light,
Leda xxx

Photo Courtesy: drpegonline.com, theodysseyonline.com, Leda