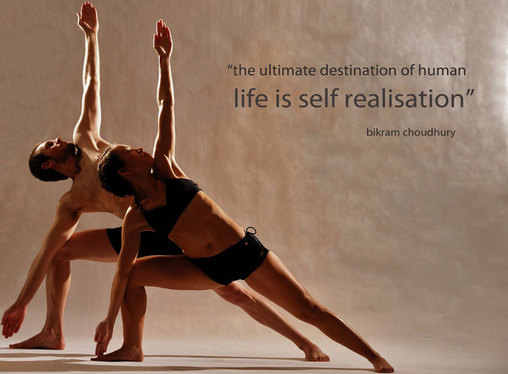 A 30 Day Challenge is never easy for anyone that has tried it. It takes 21 days to make or break a habit, so after your 21 days, you are good to go!
Week 4 of my Bikram Yoga 30 Day Challenge was the best part of the challenge.
By now all pains and aches were gone. I was completely in love with Bikram Yoga.
It was official: "Hi, my name is Leda and I am addicted to Bikram Yoga!"
At this stage of the game I loved having Bikram Yoga as part of my daily routine and I especially love the Bikram Yoga NYC studio. Everyone is friendly and all of us Yogis have the same goal: honoring ourselves with 'me' time while releasing everyday stress and toxins.
My last week of the 30 Day Challenge I had some amazing teachers that I always loved seeing.
I was excited to end my last few classes with Pamela Herron, Olivia Anselmo and Justine Gartner.
Pamela Herron is a gifted teacher. I love the way she truly has passion for what she does and how she leads the class in such perfect sequence of poses as if it were the perfect dance choreography. She is truly special and her energy shines in class. Pamela always pushed me to do better and cheered me when I did great.
I always left feeling a bit taller and skinnier after her class! Thank you Pamela! :)
You can read more about Pamela at:
www.bikramyogales.com/Pamela
Justine Gartner has an amazing inspiring story. She started Bikram Yoga on a 30 Day Challenge due to her ongoing battle with Sciatica. After a year of practice she no longer needed a chiropractor or acupuncture.
She even competed in the USA Yoga Regional Asana Championship in NYC. Needless to say, she loved Bikram Yoga so much she completed her Bikram Yoga teacher training program. Justine saw me grow from week 1 where I was a hot mess up until week 4 where I felt like a true professional!
You can see more of Justine and her photography work at:
JustineBethGartner.com
Olivia Anselmo who I have written about before, was my teacher on my 30th day. I was so happy about that since she truly inspired me back in week 2, to keep going. Glad I did! Olivia has a special way of encouraging you to handle your poses in such a powerful way. You can tell she's totally in tuned to her higher self and is a healer in her own right.
I truly adore the way she handles all the first timers in class especially the ones that think they are about to pass out! Loved being inspired by her! Olivia had everyone in class give me a round of applause for completing my 30 Day Challenge. You can find out more about Olivia and her magical retreats at:
corinneandolivia.com
I have to say I truly feel that my body has completely changed since I started Bikram Yoga. I feel my body's alignment is no longer the same! I can't describe the feeling but it's a powerful experience to be able to feel so connected to your own body physically, mentally, emotionally and spiritually.
If anyone is curious about Bikram Yoga and changing their lives, I highly recommend the Bikram Yoga NYC studio. My favorite of course is the Upper East Side location since that is where I started my new journey.
Make sure to say Hi to Yelena the night manager as she is the best!
Feel free to take a peek at the studio here:
BikramYogaNYC.com
And if you live outside of NYC, check your local town for the nearest Bikram Yoga studio.
I also want to thank my Bikram Yogi partner in crime Louise for hanging in there and happy we pushed each other everyday!
Namaste!!!
And remember:
GirlieVegans Do It Better!!!
Love and light,
Leda xxx
Photo Courtesy: Bikramyogacapalaba.com.au