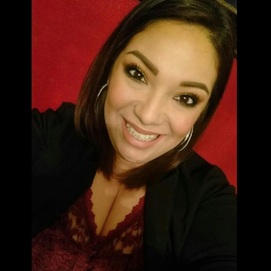 I am SO EXCITED to introduce to you Taryn De La Rosa. YAY!!!
I'm super excited for Taryn because she agreed to try the
GirlieVegan Raw Till 4pm 22 Day Challenge
!
Taryn lives in Corpus Christi, Texas and her options are pretty limited when it comes to having vegan restaurants or even vegan support for that matter. But like a true Leo she wasn't afraid to take on this challenge! Between my guidance and her research she was able to find a great store in Corpus Christi called Sprouts and realized they sold vegan products! Taryn is now aware of websites like VeganEssentials.com which sell all vegan products :)
I ask that all vegans new or seasoned, please join me in supporting and mentoring our dear Taryn! You can feel free to contact her through her social media which is listed below. Feel free to give her recipes, ideas, mental and emotional support. As a wellness, health, spiritual, animal rights and vegan community we should be there for each other. This GirlieVegan is sooo happy to support and coach Ms. De La Rosa!!! I have no doubt that Taryn will ace this task!
Let's get to know her a bit better, shall we?!
Name: Taryn De La Rosa
Born: Corpus Christi, Texas
Currently resides: Corpus Christi, Texas
Birthdate: July 29th
Sign: Leo
Education: Double major in Psychology & Sociology (Texas A&M: Kingsville)
Career: Social Worker
Fave colors: Purple and Black
GV:
What are you most excited about with this GirlieVegan Raw Till 4pm 22 Day Challenge?T:
I am excited about becoming healthy and gain spiritual clarity and good karma...lol...
GV: What are you most worried about with this GirlieVegan Raw Till 4pm 22 Day Challenge?T:
I am worried that my emotional eating may rear it's ugly head and return me to my past ways...But in this journey I pray for a healthier relationship with my emotions and subsequently with food.
GV:
What does Taryn like to do on her spare time? Besides connecting to music and singing! T:
I love reading, meditation, new found love for yoga, makeup, and a slight obsession with Facebook...Most importantly seeking God and working on my spiritual connection with him. It is amazing...as your spiritual eyes are opened, you see EVERYTHING is connected! Everything!
GV: What is Taryn's your favorite food?
T: Pizza
There you have it my loves! A little piece of Taryn for now until she starts blogging :)
Please encourage, support and share recipes with Taryn by clicking the links in pink below:
Instagram:
@NYRAT245
Facebook:
Taryn De La Rosa
Hashtag on social media:
#GVRT4
Let's get to itttt!!!!!
And remember:
GirlieVegans Do It Better!!!
Love and light,
Leda xxx
Photo Courtesy: Taryn De La Rosa